The aim of this website is to share my adventures and provide a source of information on tramping (hiking) for those about to do the Te Araroa Trail, other New Zealand Trails or Norge Pa Langs. I am also planning on doing a Campervan Conversion. The site is still under construction so please be patient if one of the pages has no content.
I would love to get feedback from you on what I have written or what you would like to read/see.  I am not an expert in any of the areas I write about and welcome all advice or corrections.
Please note that as I am from New Zealand my spelling is UK style and I use the metric system.  For the YouTube clips be aware that I have a New Zealand accent. It is mild having lived overseas for a while but you may still struggle.  For a humerous explanation of the New Zealand accent check out this YouTube clip Santa Claus and the New Zealand accent -Air New Zealand Commercial.
About Me
I have always had a love of the outdoors with tramping (hiking) being a consistent activity along with all of my other sports. I love the freedom of hiking and love spending time in nature, getting back to the bare essentials of survival. In our hectic world it is not often we can take time for ourselves to recharge our batteries. I prefer to hike solo as it is one of the few times I don't have to be responsible for anyone else. My key achievements are completing an eight day Expedition Adventure Race, completing Te Araroa Trail in 2015 and climbing the three highest summits in Africa – Mt Kilimanjaro, Mt Kenya and Mt Stanley.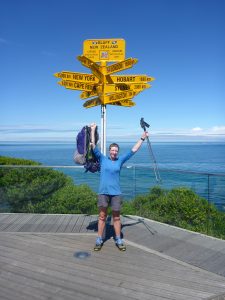 End of Te Araroa Trail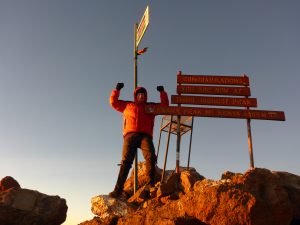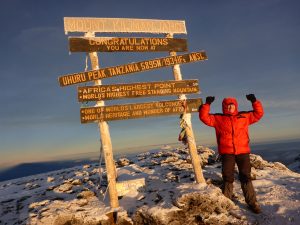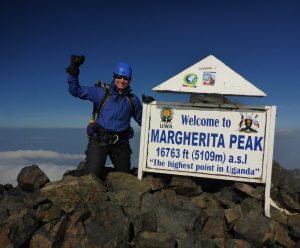 I was in the Army for several years and on retirement have spent the last 5 years working for the United Nations in Africa (DR Congo and Mali). I was in charge of support services with United Nations Mine Action Service (UNMAS) which deals with Landmines and Explosive Hazards of War, including Improvised Explosive Devices (IED also known in laymans terms as roadside bombs). While it was satisfying work it was also very stressful and I needed a break. I am about to take 18 months off work to relax, travel and do some thru hikes (long distance hikes). You will be able to follow my adventures through this site and YouTube. Below is a link to receive updates from my Blog and to subscribe to my YouTube channel to get notification when new clips are posted.
As for my age. We will leave it at early 40s.
All photos on the website are taken by me, unless otherwise mentioned.
Note on YouTube Subscription. You don't have to pay to subscribe to YouTube and will only get one email each time a new clip is posted. The benefit to me of you subscribing is if I get enough subscriptions I will be able to earn some money which will be helpful with no salary for the next 18 months.
Hits: 5005