Pack – Zpacks Arc Blast 60l
Rating: 9/10
Good: Light, great design, comfortable
Bad: Hip Pocket elastic attachment and zip issues, though after initial repairs still going strong
Description: The pack is 60 litres constructed from tough 2.92 oz/sqyd Cuben Hybrid fabric. This material is Cuben Fiber on the inside with a protective layer of 50 denier Polyester on the outside. The outer layer gives it even more strength, prevents fraying, and gives it a nice solid colour. The material and design can handle loads up to 30 lbs (14 kg). The seams are taped water tight and there are a variety of color choices. Flexed Arc carbon fiber frame creates an air gap against your back. The air space keeps your back cool and also provides a buffer from any lumpy items in your pack. It has roll top closure on the main pouch, side pockets, front mesh pocket and 2 hip pockets. Modifications requested; hydration port removed, stabiliser straps added, hip pocket x 2, trekking pole holders added.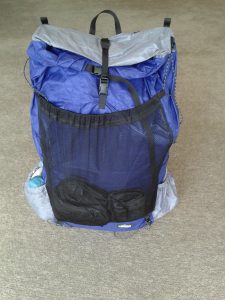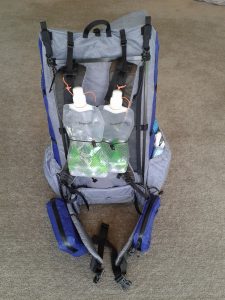 Weight – 591 (includes all the extra things I ordered and heavier hip pockets due to using two sided Velcro to replace elastic during the tramp.
Durability. I was a little concerned if it would be tough enough for NZ trails, or rather lack of trails, thick bush and multitude of prickly plants. Apart from the unfortunate sewing error on the shoulder strap (see gear review posted 21 Nov, my repair held perfectly) the pack itself has survived well and has no sign of wear on the main part of the pack. I am now fully confident in the durability of this pack in New Zealand Tramping conditions which means it will last most other long distance trails easily.
The bottom of the pack picked up a couple of tiny holes which at the 2 ½ month mark effected the waterproofness when putting down on wet surfaces but applying some Cubin Fibre Repair tape fixed this. On the last river crossing on day 113 despite me crossing up to my hips and then hopping back in a few times for photos the pack stayed dry. The remainder of the pack showed no sign of wear and remained 100% waterproof even in heavy and sustained rain. I never had to worry when it rained about my gear getting wet.
The colour faded very slightly but this was only a cosmetic effect that you had to look closely to notice.
The front mesh pocket picked up one tiny tear that did not get bigger. The elasticity remained excellent and after stretching it with a big load it would spring back.
Shoulder Straps. After 3 ½ months the foam compressed a little meaning the comfort was not as great.
Hip Pockets. These were the items I had the most issue with. They are attached to the back by two elastic attachments each side and an elastic strap around the Hip Belt. The elastic strap snapped in the Richmond Ranges and I used string to support the Hip Pocket until I got to Methvin and replaced the elastic strap with Velcro (for lack of proper web strap). This repair held strongly and actually was an improvement in holding the Hip Pocket firmer against the Hip Strap. The Hip Pockets remained waterproof in all rain which was fantastic. They were not waterproof for full submersion but I didn't expect them to be. In the very last week one of the Zips started playing up. This is the one that I kept my camera in so I opened and closed much more than usual. I estimate it was at least 2,000 times opening and closing so I am actually not surprised there was an issue. The other pocket is still going well and I estimate it was opened 1200 times.
Design
Overall this pack was very comfortable and well designed. I loved this pack and even after comparing with the myriad of different packs other Te Araroa Trampers were using I think this was the best one. When I do another long tramp I will be using this pack and I am using it for climbing Mt Kenya and Mt Kilimanjaro in a few weeks.
Up until 3 months the shoulder straps were very comfortable despite their minimalist design. At this stage I did notice a little compression in the foam on the straps and I did notice them more than before as the weight was now distributed on the 1 inch web rather than wider foam but they were still not too uncomfortable. I considered taping some foam on them but in the end didn't feel the need.
The Hipbelt was comfortable throughout though I should have got a smaller size as when I lost so much weight it didn't have much room left to tighten. Several people commented that it could not possibly be comfortable as it was minimalist but I actually preferred it to the overpadded belts in many of the packs.
Weight Distribution. I found it very easy to adjust the weight between my hips and shoulders until I lost weight and for the last month I had to cinch the hip belt tighter to keep the weight off my shoulders. I would definitely recommend getting the lumbar pad which is an optional extra.
I didn't use the mesh back panel (kept forgetting to bend the carbon frame to create the airflow gap) but found it comfortable anyway.
I loved having a frame as it made it easier to load in the mornings and I think helped with the weight distribution.
Side Pockets. Fantastic. The size was great and you would be able to fit a Nagalene Bottle comfortably if needed. I kept a variety of things in these and the pockets were easy to reach while wearing the pack. The tops of the pockets were elastic and this shrunk back to normal after being stretched for long periods.
Mesh Front Pocket. I was not sure on how useful this would be at the start but converted to loving this. Most of the time I kept my rain gear, Sun Hat and 2 litre water bottle in this. I also used it for food I did not want to get squashed. It was great having so much room available as it stretched out when I needed to stuff more things in it but was flat when empty. I was not sure of the strength of the mesh but in the end was happy putting my full 2 litre water bottle in there along with the normal things and it was fine.
Main Compartment. Good size for what I needed. Even with 10 days food I still had a little room. When carrying less the side compression string easily reduced the size. I am glad I went for the 60 litre pack and not the smaller one as it just gave more flexibility and given how similar the weights were it was nice to know I could fit more if needed. Roll Top Closure was another area I was concerned about whether I would like but it was fine. I especially came to appreciate the Velcro closure as it made rolling it easy. As I only went into my pack at lunchtime and when arriving in camp it was not an issue and it was actually easy to open and close quickly and with cold numbed hands.
Hip Pockets. I loved these and would not consider a pack without these in the future. In the left one I kept my; maps, toilet paper, hand sanitizer, wallet, camera mount and snacks. In the right one I kept my; Personal Locator Beacon (except when doing river crossings when it was around my neck), notepaper, pencil, Phone, pocket knife and camera. These were the perfect size to fit everything I needed handy without getting in the way. They never got in the way when walking with and without poles or rock climbing.
UPDATE 2017. Since Te Araroa I have used this pack for Mt Kenya, Mt Kilimanjaro, Mt Stanley (the hardest hike I have done in a long time), Bhutan, the Simien Mountains in Ethiopia, Dusky trackand Rees Dart Track in NZ. It is only now it has the slightest sign of tearing where the shoulder strap attaches to the pack but with reinforcing it is still good for a few more tramps.
Very impressed with the durability of the pack!
Hits: 31