Gear Review
Te Araroa
ZPacks
Review – Sleeping Bag – ZPacks -7degree (20 F), 900 fill water repellant down, 5.9 foot medium width (review Feb 15, updated Dec 17)
Sleeping Bag – Zpacks 5'9" Medium Width 900 Water Repellent Down
Rating: 7/10
Good: Comfortable, durable, custom size
Bad: Not as warm as expected (possibly due to clumping down)
Weight: 531 g (including cubin fibre dry bag stuff sack)
Description: ZPacks 5.9″ normal width -7degree 900 fill water repellent down. Outer Shell Material: Green .75 oz/sqyd (25.4 g/m2) Pertex GL Ripstop Nylon. Inner Liner Material: Black .75 oz/sqyd (25.4 g/m2) Pertex GL. Baffle Material: .34 oz/sqyd Cuben Fiber. Fill Material: 900 Fill Power Premium Goose Down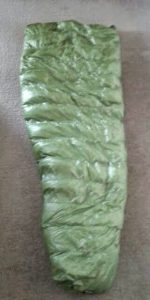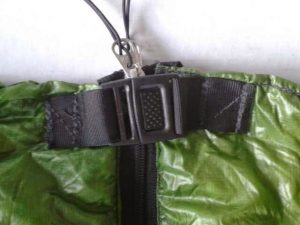 Bag                                        Clip to stop zip opening accidentally
Comments: This was a well designed bag that I found comfortable and versatile. It had a ¾ zip which I was not 100% sure about at the start but I actually liked this. I ended up having the zip open everytime I was in my tent. I would have my feet in the bag and the bag draped over me while I slept on the mattress in my sleeping bag liner. I found this worked well when it was hot as I could easily get airflow and in the cold I could shake all the feathers over top of me and tuck the sides under the mattress.
I liked the clip at the top of the bag to stop potential zip opening during the night if I had it zipped up. The drawcord at the top was easy to use.
This bag does not have a hood which I have never been without in a sleeping bag but I never missed it. When it was hot it was nice not having the extra warmth at my head. When it was cold I was curled into a ball and had heaps of extra space to pull the bag over my head. I purchased a down hood in case it got cold but did not use it. A couple of nights I kept my hat on which was sufficient.
My only issue with the bag was it was not as warm as I thought it would be and did not loft as much as I expected. There was a couple of nights where the temperature dropped significantly and I was not warm. I had to put a top and socks on to keep at a comfortable temperature. I contacted Z Packs about this and they explained they had found the water repellent down had a tendency to clump which affects the loft of the down and they had stopped using it. I compared my bag to someone who had a non water repellent down and their bag was fantastic and really lofting. In Zpacks usual excellent customer service they offered to replace my bag and gave some options to fix the issue in the short term. I found if I shook the bag I got a little more loft and once I started thinking about down distribution I was able to move the down around to the areas I wanted it. The down did tend to collect near the zip so needed to be shaken into the middle.
Overall I was happy with the bag design and comfort but not with the lofting.
UPDATE 2017.  At the end of my TA thru hike I gave the sleeping bag a much deserved wash and it lofted much better after this. It is still in excellent condition and I would be confident doing another thru hike with it. Since Te Araroa I have used this bag for Mt Kenya, Mt Stanley (the hardest hike I have done in a long time), Mt Nyiragongo in DR Congo, Bhutan, Oman,  Turnmenistan, Azerbijan, Georgia, the Simien Mountains in Ethiopia, Dusky track in NZ and Iceland.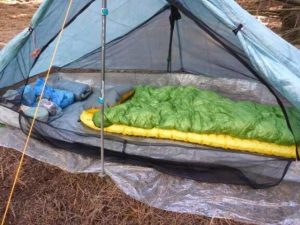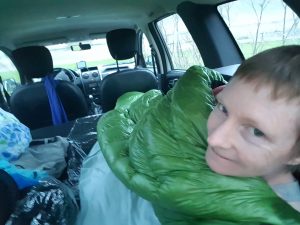 Bag ready for use                                                   And in use (Iceland)
Hits: 28