Stove – MSR Pocket Rocket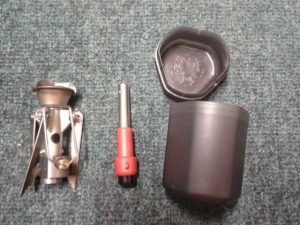 Rating: 10/10
Good: Light, easy to use, reliable
Bad: Nil
Weight: 127 g (includes stove, lighter and container)
Comments:
Easy to use and fast.  Love it. Very economical in gas usage. I used one gas cylinder per month but I only fully used one cylinder and the rest still had ¼ to half left but were swapped to ensure full cylinder for next section.
I really liked the Petzo  lighter that came with it. No matches needed, just click black button and the spark at the end lights the gas.
Dec 2017. I haven't used it much since TA but each time it has worked perfectly.
Hits: 12