Tent – Zpacks Solo Hexamid
Ratin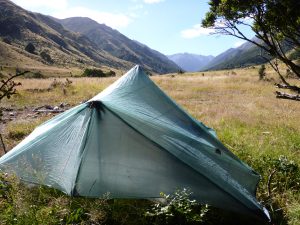 g: 10/10
Good: Light, easy to put up, waterproof, roomy (for me 165cm tall).
Bad: Nil
Weight: 539 g (includes tent which I ordered in the thicker 0.74 oz/sqyd, stuff sack, 4 v stake pegs, 6 sheperd pegs)
Description: The outer is constructed from 0.51 oz/sqyd Cuben Fiber (optional in thicker 0.74 oz/sqyd), with inner of 0.7 oz ultralight insect netting. The 8 inch (20 cm) bathtub floor is made from thicker 1.0 oz/sqyd Cuben Fiber. Cuben Fiber is made from Spectra threads which do not stretch, allowing the tarp to stay taut all night. The tent uses two walking poles to erect. A Rainbow zipper allows you to get in our out the left or right side of the tent and gives you access to the vestibule area. The doorway is tall for easy entry. You can close either the left or right storm door depending on the wind and rain.
The outer overhangs the bathtub floor by 4-5 inches (12 cm). In calm rain or under wet trees one or both doors can be left open for air flow without water dripping on the floor space. In almost all conditions at least one door can be left open for air
Outer Dimensions:
Peak Height: 48″ (122 cm)                      Rear Peak Height: 32″ (81 cm)
Ridgeline Width: 37″ (94 cm)                 Width including vestibules: 61″ (155 cm)
Front Vestibule space: 20.75″ depth. (53 cm)      Length: 100″ (254 cm)
Inner Dimensions:
Peak Height: 48″ (122 cm)                      Rear Peak Height: 32″ (81 cm)
Floor Width: 30″ (76 cm)                        Floor Length: 7.5 feet (2.3 meters)
Zipper entry height: 36″ (91 cm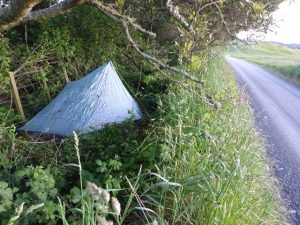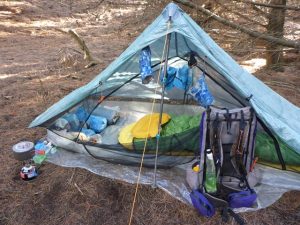 Closed tent                                                                    Tent fully set up. 
(Note the groundsheet does not indicate the size of the vestibule, this is actually much larger in a line from the tent corner to the front guy)
Durability: Zero sign of wear, no holes, no rips, no stretching, zip perfect. (Note I did use a ground sheet).
Design: Fantastic. Of all the tents I saw I still think this is the best design. It is generous in size and easy to put up. The few times I camped with other people my tent was up in a fraction of the time it took them. Even in high winds and rain it was easy to put up without getting wet. I could put the tent up in just over 1 minute. The one issue is like all non self supporting tents you need ground that will take your pegs and once I failed to put the tent up because the ground was too hard. I carried a combination of pegs, 4 v pegs (same design as a snow stake) which used the majority of the time for the 4 main guys. I carried 6 shepherd stakes which were used for the less important guys and for the main ones in harder ground. The tent requires 6 pegs at minimum but 8 is better.
The rainbow zip in the inner was fantastic and made it easy to sit in the doorway.
The outer closure system initially had me concerned as it is clipping the two flaps to a carabina and they cross over rather than zipping. After rain and wind I was fully confident in the closure system and found it easy to use. Most of the time I kept one flap open and loved being able to look up at the stars as I lay there.
The vestibule was roomy. My pack and shoes sat on one side and the other side was used for cooking
The height of the tent was great and I was able to sit up with heaps of head room.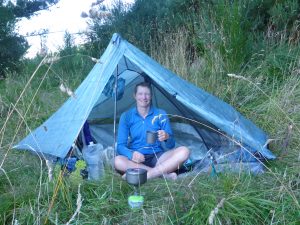 Heaps of room to sit in the entrance
The width and length was perfect for me. The width allowed my mattress with about 10-15 cm either side. The length allowed me to lye fully stretched out and have all of my gear above my head. I generally fully emptied my pack every night into my tent.
Condensation. This is a single wall tent and such prone to condensation but I was pleasantly surprised how few times I got condensation. There were many times where all the other tents suffered condensation when I didn't. This is probably due to the ventilation within the tent. The edges are 10-20 cm off the ground which allows good airflow though in really bad conditions you could drop this to ground level which I did once with one end. I prefer to camp in trees which reduces condensation issues. The bathtub floor is high enough that rain does not bounce up and wet the inside of the tent
The great thing is because cubin fibre doesn't absorb water I just wipe the tent with a cloth and it is dry.  This benefit means after rain I just shake the tent and all the water flies off.  The remaining moisture dries really quickly.  Because it does not absorb water it is not heavier to carry after rain like other tents.  Also I don't need to worry about touching the tent walls when it is raining as the water does not sink through. The final benefit is cubin fibre dies not stretch so there is no sag sitting the night or with heavy rain.
Overall I found this a fantastic tent that I had full confidence in. I loved sitting inside listening to the rain outside knowing I would stay dry. I loved how easy it was to put up and how light it was.
UPDATE 2017. This tent is still in excellent condition and I would be confident doing another thru hike with it. Since Te Araroa I have used this tent for Rwanda and Dusky track in NZ. I have just sent the tent to ZPacks to do the  upgrade to change the tent flap connection to the new hooks and convert the tent to allow the self supporting poles which they are now offering. I will do an update once I have used the tent in the new configuration.
Hits: 35