Gear Review
Te Araroa
Review – Water Bottle – Platypus 500ml and 2 Liter (review Feb 15, updated Dec 17)
Water bottles – 2 x Platypus 500ml with sports top and Platypus 2 litre with normal top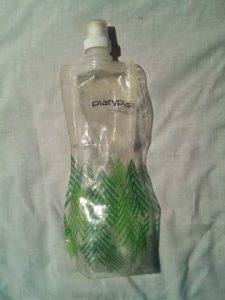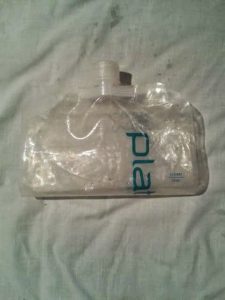 500 ml old style plastic                     2 litre softer plastic
Rating: 10/10
Weight: each 500ml bottle 25g, 2 litre 39g
Description: Collapsable plastic water bottle.
500 ml bottle
2 litre bottle folded up
Comments: I was surprised how durable these bottles were as I was expecting to have to replace them. I had the two 500 ml bottles attached to my shoulder straps so they were exposed to the sun, rain, bush etc. The 2 litre bottle was folded into 3 and stuffed into my front pouch until just before camping when it was filled up. It also has no sign of use.
Update Dec 17.The 2 litre bottle still has no damage or sign of wear. The 500ml bottles have delaminated near the top and one has a minor leak which duct tape has solved. Very impressed at their durability.
Hits: 19